EZ-Open Top FLASK
Peel-Off Cell Culture Flask for Easy Cell Retrieval
Sterile polystyrene flask with filtered cap is commonly used for cell culture to minimize risk of contamination, however, retrieving cells through the neck of cell culture flask is cumbersome task. EZ-Open Top FLASK with a peel-off cover allows direct access to the culture stocks.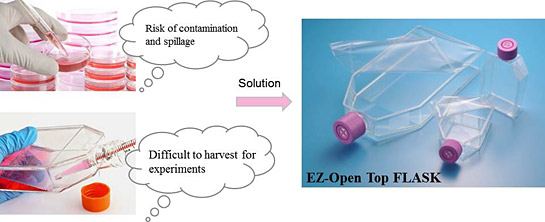 Made-to-order; 3 months lead time
Features
Peel-Off cover allows easy access to the culture surface.
High quality polystyrene canted-neck flask is tissue culture treated using corona discharge.
Filtered screw cap contains 2.0 µm hydrophobic membrane.
Peel-Off cover is made of toxin-free PET/PE material.
Leak-proof with strong heat welding.
Ordering Information
| Product | Cat.No. | Capacity | Working Vol. | Storage | PKG Size | Price(US$) | |
| --- | --- | --- | --- | --- | --- | --- | --- |
| EZ-Open Top FLASK 25 (Surface Area: 25 cm²) | 3173-025 | 70 ml | 5 - 7.5 ml | Room Temp. | 20 | 250.00 | Buy |
| EZ-Open Top FLASK 75 (Surface Area: 75 cm²) | 3193-075 | 270 ml | 15 - 22.5 ml | Room Temp. | 20 | 370.00 | Buy |
| EZ-Open Top FLASK 150 (Surface Area: 150 cm²) | 3183-150 | 600 ml | 30 - 45 ml | Room Temp. | 20 | 410.00 | Buy |
Made-to-order; 3 months lead time