Aggregate content of hIgG4 mAb determined by the standard strength Arg-SEC mobile phase in comparison with NaCl-based SEC mobile phase.
A mAb, hIgG4, containing aggregated species, was analyzed by SEC using our standard Arg-SEC mobile phase and NaCl-based 100 mM phosphate. Although the monomer content was identical between these 2 mobile phases, the aggregate content was much higher with our Arg-SEC mobile phase. This is due to suppression of non-specific adsorption of the aggregates to the SEC column by Arg-SEC mobile phase, but not the NaCl-based mobile phase.
Condition
Column
TSKgel G3000SWXL
Column size
7.8mmI.D.-300mm
Flow Rate
0.8 ml/min
Temperature
Ambient
Detection
UV 280 nm
Sample
hIgG4, with aggregates
Injection Vol.
10 µl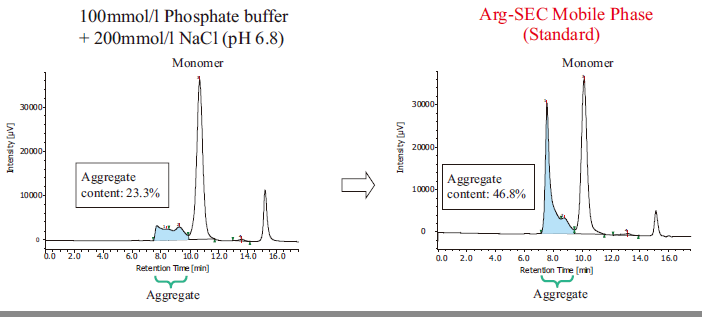 Data courtesy of Ajinomoto Co., Inc.
---
Arg-SEC can give correct estimate of minute amount of aggregate content. Arg-SEC mobile phase gave a slightly, but significantly, higher aggregate content (both data) and a higher protein recovery (Data 2) than NaCl-based mobile phase.
Data 1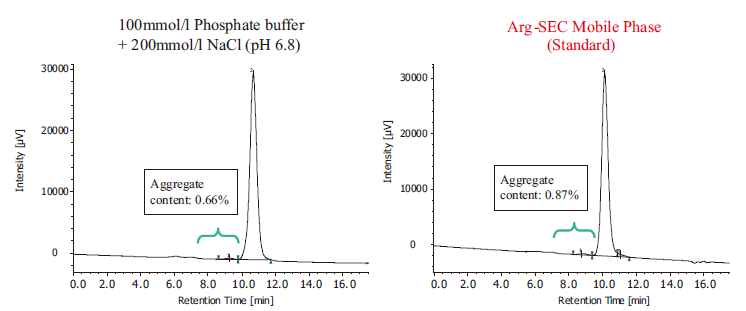 Data 2