Back pressure and theoretical plate were compared for 2 μm and sun 2 μm C18 and 2.6 μm SunShell C18. All columns showed almost the same theoretical plate except for brand A C18 1.9 μm.
However back pressure was not same. Especially Brand C C18 1.7 μm showed the highest back pressure. And SunShell C18 2.6 μm showed the lowest back pressure. On the comparison of theoretical plate per back pressure, SunShell indicated the largest value. This is a big advantage.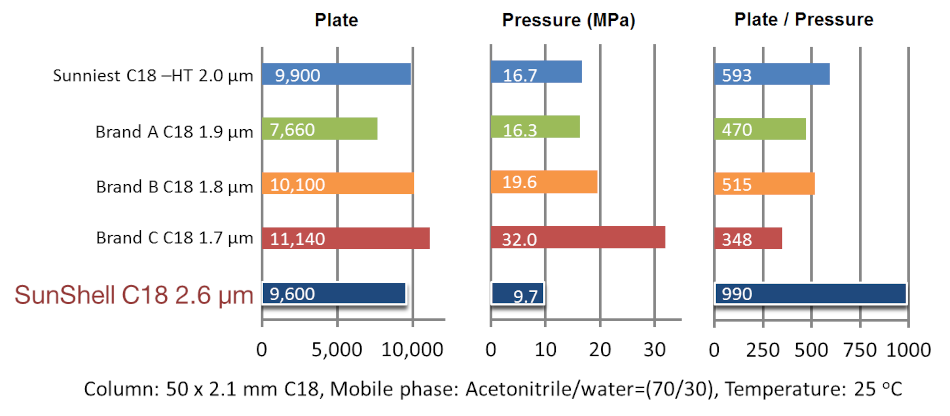 SunShell C18 2.6 μm 100 x 4.6 mm showed the same performance as conventional C18 5 μm 250 x 4.6 mm using HPLC.
An analysis time reduces to one third by only changing from conventional C18 column to SunShell C18 column and no changing the other conditions.
SunShell C18 showed 20% higher performance using UHPC than using HPLC.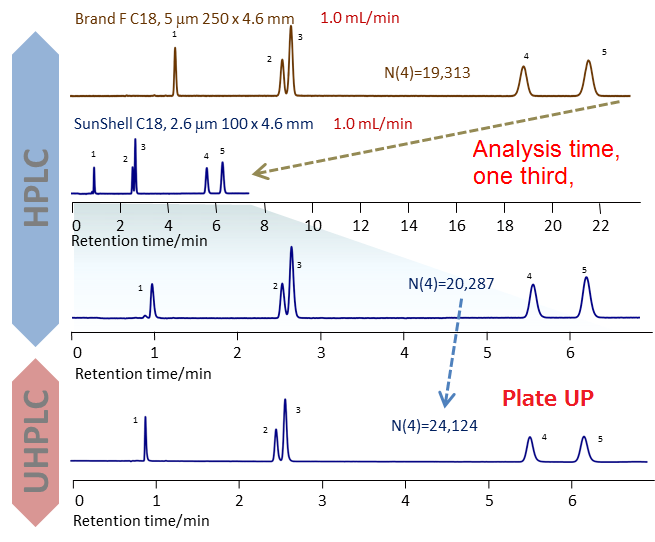 Column
Brand F C18, 5 µm, 250 x 4.6 mmSunShell C18, 2.6 µm, 100 x 4.6 mm
Mobile Phase
CH3CN/20mM Phosphoric acid = 45/55
Flow Rate
1.0 ml/min1.8 ml/min at the lowest chromatogram
Temperature
25 oC
Detection
UV 230 nm
Sample
1. Benzydamine2. Ketoprofen3. Naproxen4. Indomethacin5. Ibuprofen

HPLC

UHPLC

Hitachi LaChrom ELITE (tube 0.25mmI.D.)

Jasco X-LC