PROKEEP is a high quality tube developed for the use of protein or peptide analysis (SDS-PAGE, HPLC, MS) as it mitigates the risk of the sample loss during experiment and preservation, and improves the signals detection.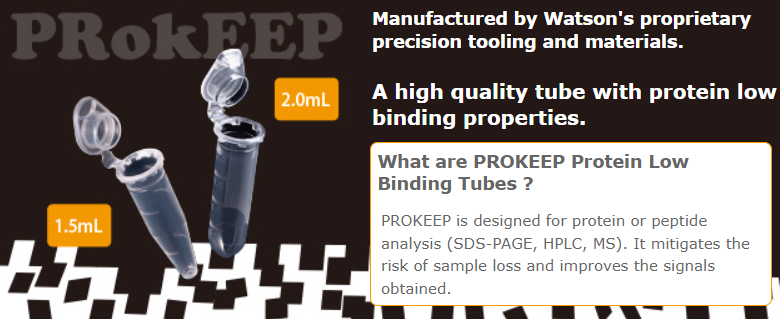 Our special blending plastic materials avoid problem caused by elution from the tube
PROKEEP tubes reduce protein binding as a result of using our special blending of raw materials with low protein-peptide absorption and our technique of high precision finishing on the mold (no surface treatment on PRKEEP).
With PROKEEP, elution from the tube can be avoided and better experiment result on MALDI MS analysis and Protein Chip analysis can be anticipated (See below).
PROKEEP's Protein Low Binding performance
Loss of protein and peptide when using plastic containers is caused by the following two factors.
a. Solution remained in the container after pipetting or centrifuge
b. Adsorption of protein and peptide to the plastic containers.
PROKEEP has been developed by approaching both of two factors. Watson's PROKEEP containers are incomparable in terms of achieving a low residue signal. PROKEEP's residue signal is approx. 1/20 million, which is 1/850 residue amount of other conventional hedrophilic products in the following factor (1).
No occurrance of peptide signal loss during 2 week-storage in the following factor (2).