Comparison of Separation Ability
Acetonitrile is frequently used in HPLC to reduce backpressure. However, the π electrons in acetonitrile interfere with the dispersion force interaction between the sample and the stationary phase. Therefore, we recommend using methanol as the organic solvent.
Column:
COSMOCORE 2.6PBr
Column size:
2.1mmI.D.-100mm
Mobile phase:
**
Flow rate:
0.4 ml/min
Temperature:
40°C
Detection:
UV210nm
Sample:
1; Stevioside (5.0mg/ml)
2; RebaudiosideA
Inj. Vol:
1.0µl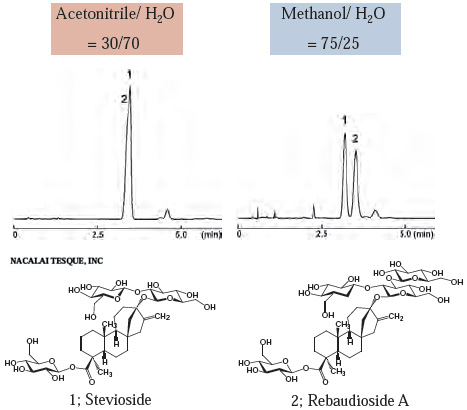 Comparison of Pressure
In general, methanol/water mobile phases exhibit significantly higher pressure than acetonitrile/water. However, the pressure never exceeded 30 MPa in our test of a 2.1 mm x 100 mm column. Since COSMOSORE 2.6PBr can withstand 60 MPa, methanol-based mobile phases are usable even with UHPLC.
| | |
| --- | --- |
| Column: | COSMOCORE 2.6PBr (2.1mmI.D.-100mm) |
| Mobile phase: | See graph |
| Temperature: | 40°C |
| Flow rate: | 0.4 ml/min |